Location: Binan, Laguna
Project Description: Roof Restoration and Coolroofing
Area: 36,000 sqm
UNITED LABORATORIES, INC
Location: Batangas
Project Description: Roof Restoration and Coolroofing
Area: 13,600 sqm
UNIVERSAL ROBINA CORPORATION
Location: Bataan
Project Description: Concrete Roof Deck Waterproofing using Redgard Silicone Coating
GNPOWER MARIVELES COAL PLANT LTD. CO.
Location: Tagoloan, Misamis Oriental
Project Description: Roof Restoration & Coolroofing
Area: 12,701 sqm
FAST SERVICES CORPORATION
REDGARD EXPERTISE
We are 28 years in the protective coatings industry in the Philippines. We are the industry expert when it comes to roof restoration, waterproofing and coolroofing of existing buildings. Our coating solutions are economical to meet client requirements on quality, cost, environment, health and safety.
FEATURED PROJECT
CLIENT: Company Confidential (Factory A)
PROJECT DESCRIPTION: Metal Roof Restoration using Redgard Nano-Ceramic Coating
LOCATION: Batangas

FEATURED PROJECT
CLIENT: Universal Robina Corporation
LOCATION: Batangas
AREA: 13,600 sqm

FEATURED PROJECT
CLIENT: Avon Products Manufacturing Inc.
PROJECT DESCRIPTION: Roof Restoration & Coolroofing
LOCATION: Calamba, Laguna
AREA: 8,400 sqm

Trusted Coating Specialist
WHY CHOOSE US?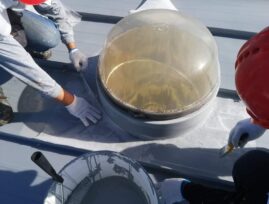 A leader in Roof Restoration in the Philippines
For FREE site inspection, please contact +63917-153-0044
ARTICLE
Redgard joins WOC 2021 in Las Vegas
As part of the company's thrust for continual improvement, Mr. Ed Haduca and team joined the ongoing World of Concrete trade show this June 8-10, 2021 held in the Las Vegas Convention Center, Las Vegas, U.S.A. Amidst the pandemic, Redgard believes that it needs to continually upgrade its product/system application portfolio for benefit of clients in the Philippines. We keep to our commitment that we will offer the most cost-effective coating solutions to clients by keeping ourselves abreast with the rest of what the world knows technically on waterproofing and protective coatings.
ARTICLE
Why Replace When You Can Restore